XTRA DOG FLEECE AND FOAM WALKING HARNESSES
​
The Xtra Dog walking harnesses have been specially designed with an 'O' ring at the top plus another at the front so that they can be used with a double-ended lead. It becomes easier to stop your dog from pulling using Tellington TTouch leading and balancing walking techniques and offer the following benefits:
​
11 standard fit sizes fleece 10 sizes in foam

Front rings are positioned to rebalance pulling dogs

Ideal measurements for good clearance of the dog's front legs

"O" rings rather than "D" rings – less wear on the webbing

Coloured colour combination – the most effective and stylish harness a dog can wear

Machine washable at low temperatures

Fleece harnesses are British Made foam are made in the USA

Colour Options (fleece) Red, Berry Red, Royal Blue, British Racing Green, Hot Chocolate, Black, Charcoal, Purple, Pink, Charcoal with Purple webbing, Charcoal with Blue webbing, Black with Red webbing, Blue with Red webbing, Black with Pink webbing. Foam (red, blue and black with black webbing.
The fleece harnesses are designed by Tellington TTouch Instructor Marie Miller (left) who is also a founder member of the Association of Pet Dog Trainers (UK) no 0130, and the foam harnesses are co-designed by Marie Millar and Jack and Pam Beckstrom (right) who are well known designers of sled dog equipment in Montana.
Watch the videos below as the harnesses are demonstrated
using Tellington TTouch leading techniques
"

I am very happy with my non pulling harness. Rosie my dog is a happy non pulling walker.

"
​
Cheryl Fergison -

former star of

Eastenders
.".. I love these harnesses as they give me more choices when working with client's dogs that are sensitive or suffering from medical conditions that may prevent me from using nylon harnesses. The ring on the front of the harness enables me to influence the posture of the dog by teaching the dog how to move his centre of gravity back into balance in keeping with the TTouch ethos. Having two points of contact (i.e., back and front ring) is key to teaching dogs to move in balance by their handler's side and many owners are stunned at the instant effect two points of contact has on their dog's posture and behaviour when on the lead..."
​
Sarah Fisher

, TV Personality, TTouch Instructor and
dog
behavioural consultant
Lauren Langman -

Champion agility competitor, Team GB Agility medal winner and dog training instructor
Team GB Agility 2015 and 2016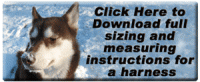 "The World's Most Comfortable Dog Harness"
Xtra Dog Fleece Training Leads
Made of Fleece to match the Xtra Dog Fleece harness

2m (plus clips) fleece training lead available in two widths 1"(with a large snap one end and a smaller snap the other end) and 3/4" (with 2 small snaps)

Training leads are ideal for dog training classes and specialist leading techniques, including Tellington TTouch groundwork exercises

Can also be used as a long lead or a short lead or for walking 2 dogs
Xtra Dog Fleece standard 1m leads with a handle
Colours to match the Xtra Dog fleece harness with fleecy handle

Soft and Comfortable on your hands
"Training leads, when combined with a harness can help to teach dogs not to pull on the lead"
Fleece training leads and fleece standard leads